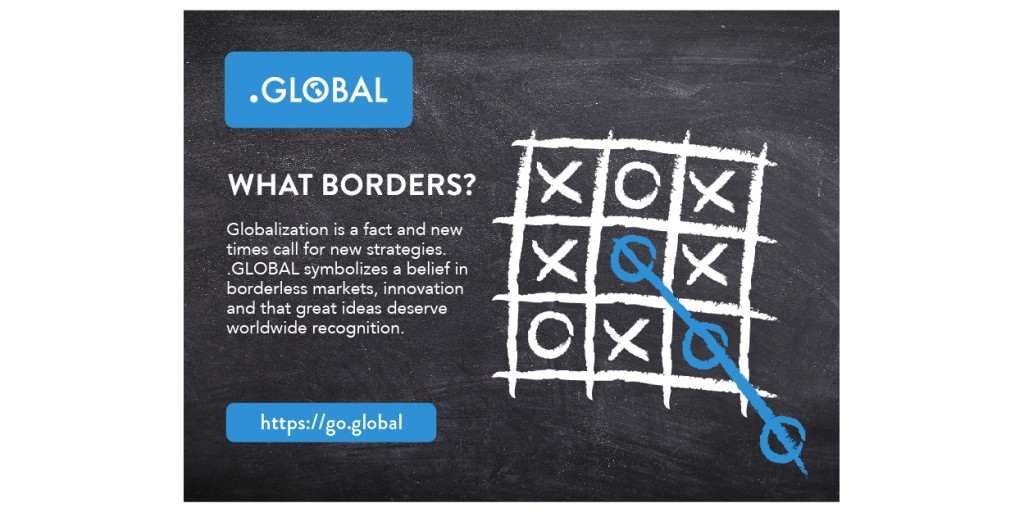 During the month of May, Marcaria is offering .GLOBAL domains at a special price and we want to encourage you to take advantage of this offer not only because it is a bargain deal, but also because the .GLOBAL domain extension symbolizes a belief in borderless markets, innovation, quality and that great ideas deserve worldwide recognition.
If you haven't grabbed your own piece of .GLOBAL online real estate yet, consider this:
– .GLOBAL is a universal and generic TLD, suitable not only for physically global businesses, but also for small businesses and organizations that wish to enhance their appeal and attract a global customer base. A good example can be modern businesses (big or small, start-up or well-established) that operate primarily online, because as we all know, the internet allows anyone anywhere to be a global player. Launch your dreams and plans in a modern way and into a worldwide community, using a .GLOBAL domain name.
– .GLOBAL is a quality TLD with a slightly higher price compared to other close-to-giveaway-domains. The price point makes the extension a quality indicator and ensures less abusive registrations, i.e. less risk that your domain is suspected of immoral activities due to the behavior of others in the rest of the name space.
– .GLOBAL is currently one of the top performers out of the new domain extensions in the same price range, as well as the 5th best-selling when it comes to premium domain names. In other words, generic words combined with .GLOBAL creates a highly valued keyword domain name that can be a good tool to drive global traffic to your idea or business.
– The .GLOBAL name space has had a stable growth since launch. You'd be in good company without hocus-pocus.
– .GLOBAL can also work as a great strategic complement to geographic domain extensions and country-code domains when it comes to well-rounded domain name portfolio building. For instance, it can be used as a global umbrella site, from which the customer is easily navigated to the relevant local site or product.