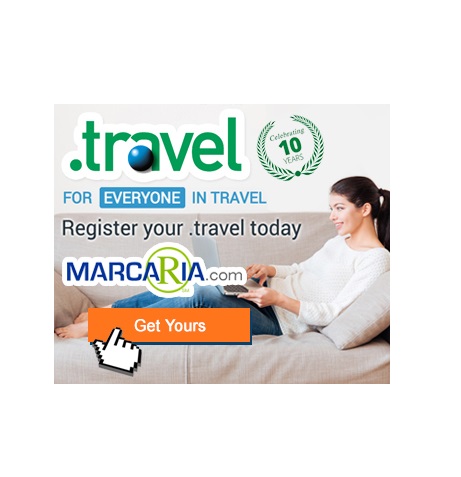 Protect your brand with a new web space.
For its tenth anniversary, .TRAVEL has "relaxed" its registration requirements and is no longer limited for registration by trademark holders in the industry, but is now also "available to anyone who provides or plans to provide services, products or content related to tourism" (both companies and individuals).
In recent years, .TRAVEL has built a strong and evolving reputation for travel and tourism websites, being the main extension for numerous official sites.
Some well-known examples include Argentina.travel, Chile.travel, Germany.travel, Colombia.travel, as well as cities or regions, such as Alabama.travel or Ibiza.travel. Various countries have also utilized this powerful extension to redirect their .com website to .TRAVEL e.g. www.seychelles.com
.TRAVEL is seen as a trusted extension, given that a majority of official entities have adopted it. It has proved largely successful in the private sector as it ranks highly in search engines.
Google currently has 10,000,000 results for .travel pages: https://www.google.com/search?q=site:.travel
In the period leading up to the tenth anniversary, a company could register its .TRAVEL domain at any point without a large risk that someone else would take it; requirements meant it would have been difficult to have the same name as another company. However, with the lack of restrictions, both companies and individuals can register a domain name if they have an interest in the industry or plan to enter it. Therefore, brand protection is key.
The cost of .TRAVEL domains has remained stable over the past 10 years, and when considering the added value that Official Bodies and Google search engine results bring, it is a small, but highyielding investment to consider.
Register your domain name MYDOMAIN.TRAVEL, now!
The remarkable effect that a company can obtain through the official .TRAVEL channels, who stand out on their website, shared via social networks, newsletters and interviews to .TRAVEL domain owners with the acquisition, which they also have free of charge access to.
Examples:
Niels Steeman, Head of eCommerce and Marketing (AsianTrails) http://www.travel.travel/blog/interview-asiantrails-travel/
Sjoukje van Alst, project coordinator at BerryWhale http://www.travel.travel/blog/berrywhale-travel/